So first off, I am from the Quad City area in Moline.
It consists of a group of cities including Moline where WWE came earlier tonight.
They started off with Big E taking on Ryback and Fandango for the Intercontinental strap.
Big E was pretty impressive, few of my friends got a pic with him, Cody and Miz.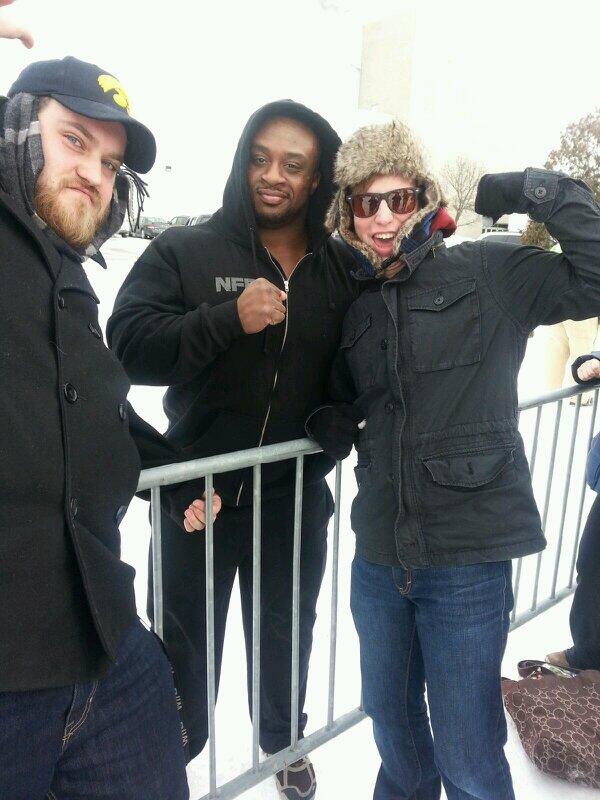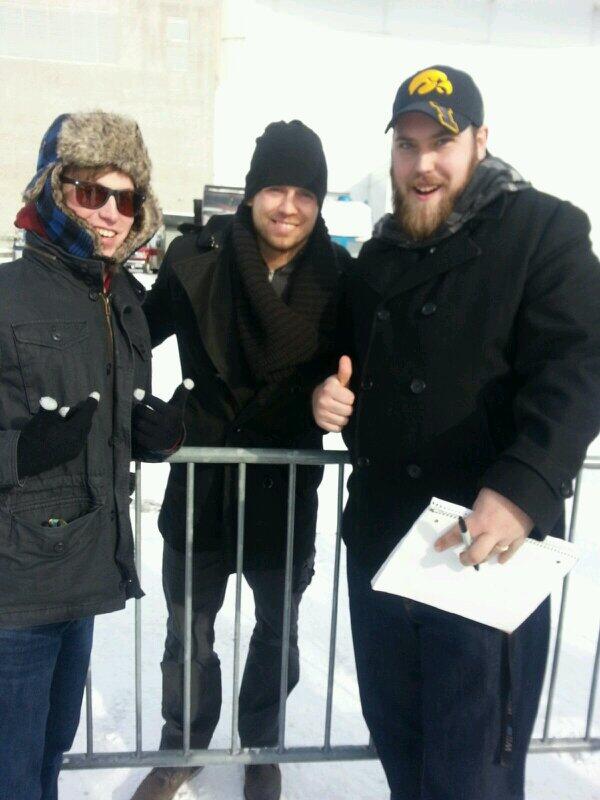 Big E's surprisingly not that big. He is wide but not big lol.
Ryback looked like a walking rock monster in real life.
Dude is soo jacked. Few Goldberg chants started up, surprised to see that still going.
Big E was wearing his Iowa Hawkeyes Number and colors on his attire. Fans booed that and he laughed a bit.
Fandango was clearly only there for extra spots. Big E got the win after he hit the Big Ending
on Fandango. He hit it on Ryback moments before but Fandango broke it up with a flying leg drop.
Then we had Curtis Axel against Tyson Kidd.
Was really impressed with Tyson Kidd. Mainly because he got rid of that little front mohawk thing lol.
To be honest, I didn't even know he was still signed until he came out with a full head of hair.
Always liked him, but he was all over the place for the crowd tonight,
jumping here and there with some neat spots.
Not much of a reaction for Axel except anytime he posed over Tyson.
Tyson won with his front flip turnbuckle finisher.
After that we had Sin Cara up against Del Rio, Del Rio was booed the entire time from start to finish.
Sin Cara got a pretty good pop and the match wasn't very long, maybe 10 minutes.
Sin Cara won after a roll up and then fans booed Del Rio out of the ring.
The match was pretty fast paced.
Then the show stealer came on.
The Real Americans came out to a thunderous amount of booing.
Zeb Colter cut a great promo talking trash about our venue and state.
Then got the 'We The People' chant anyways lol. Then the Rhodes Bros came out to a huge pop.
Good back and forth match, Both Rhodes Bros and Cesaro were pretty over.
Goldust took most of the beating before getting a hot tag to Cody who hit a Cross Rhodes on Swagger
for the pin. The Swing was one of the biggest points of the match no doubt, along with the super
hurracanranna by Goldust. Goldust definitely still has it, he was the fastest in the ring during that match
no doubt with the exception of Cesaro. Many back and forth ducks, dodged and leaps by Cesaro and Goldust.
Pretty sure The Miz and Barrett were up next.
Barrett came out to booing but mostly random chatter. Miz came out to a decent pop.
Barrett then cut a promo about how smart he is and how dumb and cornfed and inbred the state was.
Major heat for that lol. He tried his "Bad News" line and spun around with the mic to hit Miz
but it was blocked. Miz tossed him out over the top rope and mocked his accent and Bad News catchphrase.
The match wasn't that over surprisingly and Miz lost after Barrett hit him with that elbow.
Bellas beat Aksana and Alicia Foz in a tag match. Was more over than the previous match but not that
exciting. I was happy to see all of their "voluptuousness" in person though

No YES chant or anything.
Steel Cage was then set up for the Main Event.
John Cena vs Randy Orton for the title.
Orton came out to many boo's. Most of the night easily.
Then Cena came out to a monsterous pop and I have to say I havent been to an event in years,
I forgot how much louder and impressive 'pops' are in person.
The match was decent, lots of back and forth but also a lot of lying around on the mat.
Orton hit the RKO, kic kout. Cena hit the AA, huge pop, kick out.
Orton shoved the ref into Cena hit the RKO and slid out of the cage to win it.
Orton walked around for a bit as people left then slid into the cage with a steel chair
and got hit with the AA to send the children home happy.
All in all it was a pretty good show.
Shield, Wyatts, Kane, Bryan etc were all in Bloomington, IA for their house show.