Ken Comaro: "Welcome back ladies and gentlemen to the LIVE IWA Tribute Supershow! I'm Ken Comaro here with newly acquired commentator Johnny James."
Johnny James: "Thank you Ken, I just want to officially say that it's an honor to work for the IWA and it's a shame about the circumstances that brought me here. I never knew either Justin or Rhys but I hear only good things and they have my respect, just wish I could have met two of the best commentators in the business."
Ken Comaro: "They would enjoy that.. especially Rhys.. [swallows a lump in his throat] Especially Rhys, man that guy loved to be complimented. I'm gonna miss him..."
Johnny James: "I just hope I can do them and the fans justice in my commentating."
*Suddenly the announcers are interrupted as "The Show Is Over" by Polina Gagarina blares throughout the arena and the fans look on in confusion. Bright red and yellow lights flash around the stadium as the Russian vocals sound out loudly. After a moment a tall athletic woman steps through the curtain with perfect posture. She is wearing an unknown Championship belt. The belt has a purple strap, Silver centerplate and has "GLOW" written across the centerpiece. The fans murmur about the belt as she stands tall with her very toned muscular figure. She wastes no time standing on the ramp as she marches down to the ring. She climbs the apron and goes in the ring under the top rope. She lifts a mic to her lips as the fans stare at her awe inspiring figure*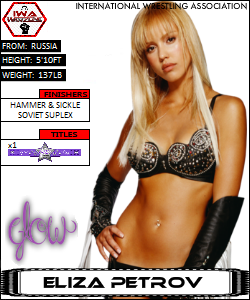 Russian Woman: "My name is Eliza Vyacheslav Petrov!"
*The fans chatter amongst themselves as Eliza stands proud in the ring*
Ken Comaro: "Eliza Petrov, the same dominant woman's champion from Russia has signed a contract with IWA?"
Johnny James: "Not only that Ken, looks like she is ushering in the new era of IWA as the GLOW Champion."
Ken Comaro: "Can't say I disagree with the decision Johnny, I mean off the top of my head, who better?"
Johnny James: "No argument from me."
Eliza Petrov: "In Homeland, I dominate all competition."
*The fans cheer a bit as Eliza looks around at the mostly American audience*
Eliza Petrov: "IWA call me, say come work at us, we give you title, you reign supreme."

*The fans cheer a little bit more as Eliza turns around in the ring*
Eliza Petrov: "I leave homeland to come to America and dominate all womans competition. I am Eliza Vyacheslav Petrov and I am supreme Russian GLOW Champion."
*Eliza drops the mic as her theme plays again and the fans cheer her. She leaves with the GLOW title around her waist the same as she came, swiftly and solidly*
Ken Comaro: "And there you have it, short but direct by the dominant Russian and GLOW Champion Eliza Petrov."
Johnny James: "How promising the GLOW division is becoming Ken."
*The show fades away to commercial*