*The tron lights up after returning from a commercial break following IWA's opening segment. A dark hallway is shown of what appears to be the IWA Underground. There are a pair of shiny black dress shoes with bloody red dress pants draped over the laces standing in frame. The camera follows the pants upward along with a sharp black cane. A red matching suit top is revealed with a single knot darkened black tie. More panning reveals a dark beard twisted up to the chin of the very tormented face of IWA Manager, Caleb Dupree. His eyebrows set an almost shocking look across Caleb's face. Caleb grins evily before speaking*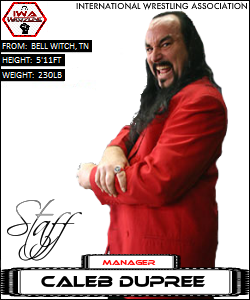 Caleb Dupree: "What a very... sad evening.. for IWA."
*He chuckles and slams his cane into the floor creating a loud echo about the hall*
Caleb Dupree: "An evening that will be unfortunately saddened more so, when the death of your beloved friends is undoubtedly overshadowed by the debut of my... Newest, Clientel."
*The fans boo loudly as Caleb's disregard of Rhys Trebian and Justin Omega*
Caleb Dupree: "Soon... Haaahahaa!"
*The tron goes black with the deafening sound of Caleb Dupree's laughter as the fans shudder at his vile presence*

_______________________
-GM of IWA (2013-Present)
-IWA Superstar (2012-Present)
-2x IWA International Champion
-1x IWA Rising Star Tourney Winner
-Leader of The Nest
-Co-Leader of The Prodigy
-Owns Rex, Surge, Gunner, Chaos Dimention & Cory Atlas
-----
-ISW Superstar (2012-Present)
-ISW VGM (2014-Present)
-1x ISW International Champion
-1x ISW Fatal Champion
-1x ISW Insanity Champion
-1x ISW MITB Winner
-1x Dance Off Award Winner
-2x Match of the Season Award Winner