Name: Hurricane Earl Lockyer
Height: 6' 4
weight: 225lbs
Hometown: Edmonton Alberta Canada
Entrance Theme: Flirtin with Disaster by Molly Hatchet
Bio: The human natural disaster is a technical trained wrestler with a solid mat game also has solid power game and  brawling skills.
Signatures:
Avalanche
Indian Deathlock
Samoan Drop
Finishers
E.L. 91 ( Earl lifts his groggy opponent unto his shoulders, he holds him for a moment, then falls back bringing his opponent down on his knees )
No Escape ( Earl lifts his grounded opponent into a sitting position and sits on his neck and pulls his opponents legs up over his head )
Entrance:
Flirtin with Disaster plays in the arena, Earl steps on the stage wearing blue jeans a black tank top and sneakers, Earl walks to the ring with a confident swagger, Earl enters the ring and climbs the ropes.
Taunt: No Sweat ( Earl whips his hand across his forehead)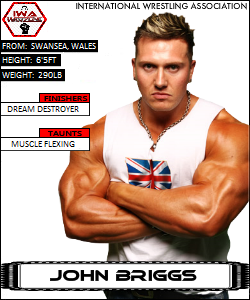 Name: John Briggs
Height: 6' 5
Weight: 290lbs
Hometown: Swansea Wales
Entrance Theme: Becoming The Bull by Atreyu
Entrance: Briggs appears on the stage wearing a white shirt  jeans and black wrestling boots, he pumps his chest and makes his way to the ring, he enters the ring removes his shirt and tosses it into the crowd, climbs the ropes and salutes the crowd.
Signatures:
Big Boot
Bearhug
Spinebuster
Finisher: Dream Destroyer ( Briggs reaches between his opponents legs with one arm and reaches around their back from the same side with his other arm and lifts his opponent up over his shoulder then runs forward and slams his opponent to the mat back first)
Bio: Briggs is a former British Army Officer and rugby player, uses his power and brute force to over whelm his opponents
Taunt: Muscle Flexing ( Briggs performs a series of muscle flexes)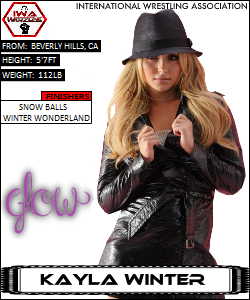 Name: Kayla Winter ( GLOW)
Height: 5' 7
Weight: 112lbs
Hometown: Beverly Hills, CA
Entrance Theme: Rich Girl By Gwen Stefani
Entrance: A pink limo pulls into the arena, the driver opens the door, Kayla exits waves to the fans and makes her way to the ring.
Signatures:
Reverse Swing Neck Breaker
DDT
Brianbuster
Finishers:
Snow Balls ( Kayla charges her opponent hooks both hands around her opponents head and leaps to bring both knees up into the face of her opponent Kayla falls backwards to the mat causing her opponent to fall forward and  impacting on her exposed knees )
Winter Wonderland ( Kayla stands behind her grounded opponent and pulls her into an inverted headlock position, hooks her opponents near arm with her free arm then pulls backwards and up wrenching her opponents neck and spine)
Bio: Kayla is the daughter of prominent Beverly Hills doctors, graduated from private school at the top of her class, graduated with a degree in Molecular Biology from Princeton University, was a member of the fencing and lacrosse teams, a life long wresting fan who get into the wrestling business, donates her wrestling earnings to animal rescue and children's education programs and various other charities, she lives in her Beverly Hills home with her three dogs Homer, Winnie, and Tigger
Bio: Originally from the Midwest, Sarah moved to Hollywood seeking fame, worked as voice over artist for commercials, and was a print model, answered an internet ad from a wrestling company seeking an interview person, auditioned for and got the job, worked as the company primary interview personality, dated several wrestlers, but is in long term relationship with wrestler Hurricane Earl Lockyer, has transitioned from interviewer to Earl's Manager.