Name: Perry Jenkins
Age: 34
From: Charlotte, North Carolina
Height: 6'2"
Weight: 240 lbs
Face or Heel: FACE
Title History/Awards:
x1 IWA World Heavyweight Champion
x1 Extreme Division Champion
x2 Most Loved Superstar Award Winner
x2 Feud of the Season Award Winner
Signatures:
Flying Forearm Chop (Double Axe Handle)
Cross arm breaker (Flipping Armbar)
Gory Bomb


Finishers:
Ultimate Xposure:
Perry Jenkins lifts the opponent on his shoulders
and does a rolling front flip executing a Ultimate Xposure

El Loco Choke:
Perry Jenkins grabs his arm
and wraps his legs around his opponents head and arm executing Loco El Choke

Carolina Cutter:
Perry Jenkins quickly turns his back to his opponent and jumps up grabbing him around the neck and falls down driving his opponents head and neck into the mat
Entrance
Light em' Up by Fall Out Boy plays through the arena
a series of coloured spotlights creates a terrific lightshow
and many changing-coloured Pyrotechnics flash all the way on the Titan Tron
Perry Jenkins makes his way to the ring
a light shines over him on the ring
_______________________________________________________________________________________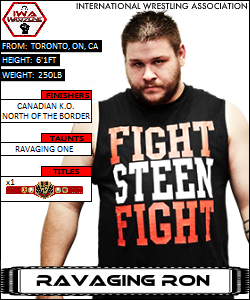 Name: Ravaging Ron
Age: 27
From: Ontario, Canada
Height: 6' 1"
Weight: 250 lbs
Face or Heel: HEEL
Title History:
x1 IWA Hardcore Champion
Signatures:
Senton Bomb
Ravaging Ron climbs to the top turnbuckle and looks down at his grounded opponent. He then jumps off doing a diving front flip on to his opponent executing an EXTREME Senton Bomb.

A Ravaging Combo
Ravaging Ron gives three right handed jabs to his groggy opponent. Ron then runs the ropes, bounces off the ropes, then big boots his groggy opponent in the face executing an EXTREME Ravaging Combo.
Finishers:
Canadian K.O.
Ravaging Ron picks up his groggy opponent. He runs toward the ropes, bounces off and delivers a hard elbow to the head executing an EXTREME Canadian K.O.

North of the Boarder
Ravaging Ron puts his opponent in a powerbomb maneuver, lift him up and slams his opponent down hard on the mat executing an EXTREME North of the Boarder.
_______________________________________________________________________________________
Name:Laura Brand
Age:27
From: St. Louis, Missouri
Height:5'8"
Weight:125 lbs


Signatures:
Around The World
Laura Brand stands in front of her grounded opponent. She raises her hand, rotating it in a circular motion signaling that is time for "Around The World". Laura Brand climbs on the top turnbuckle with her back facing her grounded opponent. Laura does a backflip of the turnbuckle lacking feet first on her opponents chest executing Around The World

A "Brand" New Combo
Laura Brand does a spinning back kick bring her opponent to her knees. Laura Brand kicks her groggy kneeled opponent in the chest repeatedly. Laura then runs to the ropes, bounces off and does a running enziguri executing A "Brand" New Combo.


Finishers:
Lauracanrana
Laura Brand steps outside of the ropes standing out on the outside. She waits for her grounded opponent to get up. Her opponent stand groggy then Laura Brand jump on the ropes doing a flying leg scissors executing a Lauracanrana.

The Brand
Laura Brand goes to the corner as she waits for her stunned opponent gets up and turn around as Laura Brand super kicks her opponent in the face executing The Brand

The Laura Lock
Laura Brand looks down at her grounded opponent. She takes her opponent legs and wraps it around her own then does back bridge. Laura Brand then wraps her hand around her opponent doing a chin lock executing The Laura Lock

_______________________
- IWA World Heavyweight Champion
- x1 Xtreme Division Champion
- x1 Superstar of the Season
- x2 Feud of the Season Award winner
- x2 Most Loved Superstar Award winner
- Former Leader of The Revolution
- Owner of Laura Brand, Ravaging Ron and Cameron Needs